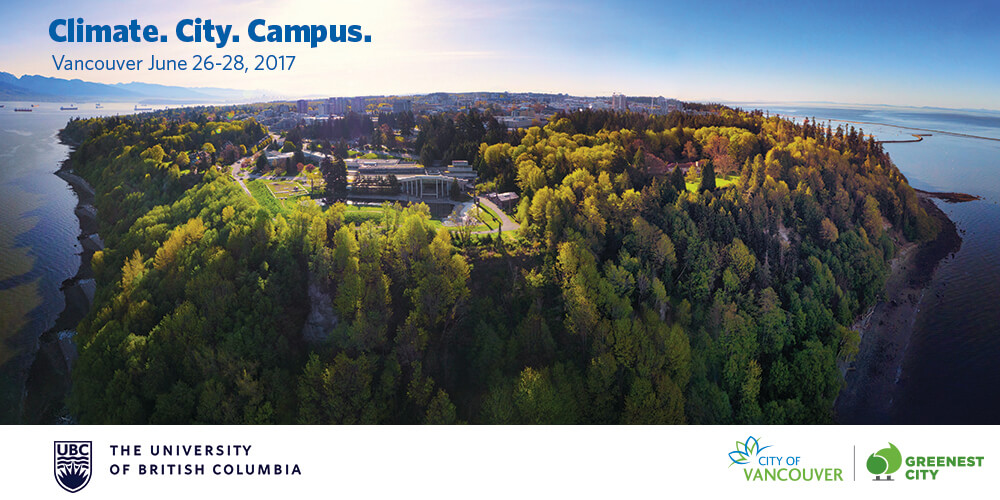 Register Accommodations Travel Tours
This year's conference will run for three days; two at UBC and one with co-hosts the City of Vancouver.

Climate. City. Campus. opens in the magnificent Sty-Wet-Tan Great Hall of the First Nations Longhouse at 9am on Monday morning. The views of the Coast Mountains at the awards dinner on Wednesday night will entice you to extend your stay in beautiful Vancouver. We will also run additional tours at UBC on Thursday morning for those interested in exploring UBC's campus further. To experience the full extent of the ISCN conference we recommend arriving Sunday night and leaving Thursday afternoon. Accommodation on campus is walking distance from our UBC venues.

Registration is now open to everyone. There are limited spots on some of the tours so register early to get your first pick! If you have questions about registration, please contact This email address is being protected from spambots. You need JavaScript enabled to view it., ISCN 2017 Conference Manager at UBC.
Speakers include:
Dr. Christine Bratrich, Director of Sustainability, ETH Zurich

Speaker for Working Group 3

Göran Finnveden, Vice-President for Sustainable Development, KTH

ISCN Working Group 4 Co-chair

Elder Larry Grant, Musqueam First Nation (TBC)

Photo Credit: Don Erhardt

Heather Henriksen, Director, Office for Sustainability, Harvard University

ISCN Working Group 2 Co-chair

Charles Holmes, Conference Facilitator

Ying Hua, Assistant Professor, Cornell University

ISCN Working Group 1 Co-chair

Maki Ikegami, Coordinator, Hokkaido University

ISCN Working Group 3 Co-chair

Bart Meehan, Visiting Fellow at the Fenner School of Environment and Society, Australian National University

ISCN Working Group 1 Co-chair

Eugenio Morello, Assistant Professor in Urban Design, POLIMI

ISCN Working Group 2 Co-chair

Julie Newman, Director, Office of Sustainability, MIT

ISCN Working Group 3 Co-chair

President Santa Ono, President of UBC (TBC)
Andrea Reimer, Councillor, City of Vancouver
Mayor Gregor Roberton, City of Vancouver (TBC)
John Robinson, Professor, University of Toronto

Dr Zoe Robinson, Director, Education for Sustainability, Keele University

Speaker for Working Group 3

René Schwarzenbach, ISCN Board President
Peter Senge, Senior Lecturer, Leadership and Sustainability, MIT Sloan School of Management
Malcolm Shield, City of Vancouver representative to C40 Cities Climate Leadership Group
James Tansey, UBC Sustainability Initiative

Dr. L.A. (Leendert) Verhoef– Scientific co-ordination officer, TU Delft

Speaker for Working Group 3
Pre-Conference - June 25, 2017 - At UBC
Members of the ISCN Board and Advisory Committee will meet for a half day preceding the ISCN main conference to discuss ISCN strategy and recommendations for program development. A discussion of these pre-conference meetings will take place with conference attendees on day three of ISCN 2017, Wednesday, June 28, 2017.
Main Conference – Day 1 – June 26, 2017 – At UBC
Session: Opening and welcome
We will begin the day with a traditional welcome from the Musqueam First Nation to acknowledge the land on which our conference will take place. ISCN, UBC and City of Vancouver executive leaders will welcome all participants to the conference.

Conference facilitator, Charles Holmes will set the stage with intention and engagement as we embark on our three days together.
Session: Opening keynote
From engaged student to city leader and international representative. UBC graduate Malcolm Shield, will share his story including his participation in UBC's Greenest City Scholars program and now seconded from the City of Vancouver to the C40 Cities Climate Leadership Group, a network of the world's megacities committed to addressing climate change. His journey exemplifies Climate. City. Campus. and is inspirational.
Session: Leadership and Systems Change
Intimate discussions on critical topics and examples are what makes the Working Group sessions so special. Expanding on this history of the WG sessions we will reflect on each Working Group theme and explore questions that many conference participants may be confronted with daily in their work.
Main Conference - Day 2 – June 27, 2017 – City of Vancouver
Session: City and Campus Strategic Relationships
Cities and universities develop relationships and collaborate for many reasons - to enable a thriving region, economy, community and learning environment. This session will focus on these strategic relationships using the City of Vancouver and UBC as an example, as well as highlighting other notable examples from around the world.
Design Lab
Conference participants will be guided through a design lab exercise where convention will be challenged and innovation sparked.
City Tours
See sustainability in action within the City. Conference guests will have the opportunity to choose from several tour options including a walk through a neighbourhood/district designed for sustainability and a bike tour of community food initiatives. Sign up for these is on the registration form.
Main Conference – Day 3 – June 28, 2017 – At UBC
Session: Case Study Immersion
Need a dose of concrete examples on campus sustainability in action to inspire you?

Conference guests will have the opportunity to learn about the Center for Interactive Research on Sustainability (CIRS) building and Campus Energy Centre with brief tours and guided discussions by UBC experts.

To expand this experience, we invite conference guests to share innovative case studies on the following topics during this morning of case study immersion.

· Wellbeing

· Campus renewable/alternative energy systems

· High performance buildings and research

· City and campus strategic relations

Please indicate your interest to present and/or submit a poster on the registration form (http://iscn2017.sustain.ubc.ca/). We will email further details to those who express interest.
Session: Looking to the Future
Conference guests are invited to participate in a dialogue facilitated by the ISCN Board and Advisory Committee. Here members will be able to share feedback on programming, the ISCN Charter, Working Groups and more as we look to the future of our growing network and how we contribute to the betterment of the sector and world.
Session: Closing keynote
Why our work matters: Higher Education's role in global agreements such as the Paris Climate Agreement and contributions to the Sustainable Development Goals.
Awards Celebration Gala
This year the ISCN Award Gala will punctuate our three days of sustainability engagement. We will close the conference with a celebration of campus sustainability excellence and inspiration to take home and put into action.
Post-Conference - June 29, 2017 - at UBC
Optional tours - Interested in learning more about sustainability at UBC? Take a tour following the ISCN main conference. Optional tours will run on Thursday morning – indicate your interest on the conference registration form.
Living Lab session - We would like to invite you for a post-conference meeting/workshop to discuss our living lab developments, emergent and active living lab models and experiences on your campus and through this we will seek opportunities for collaboration, advancement and exchange between annual ISCN gatherings.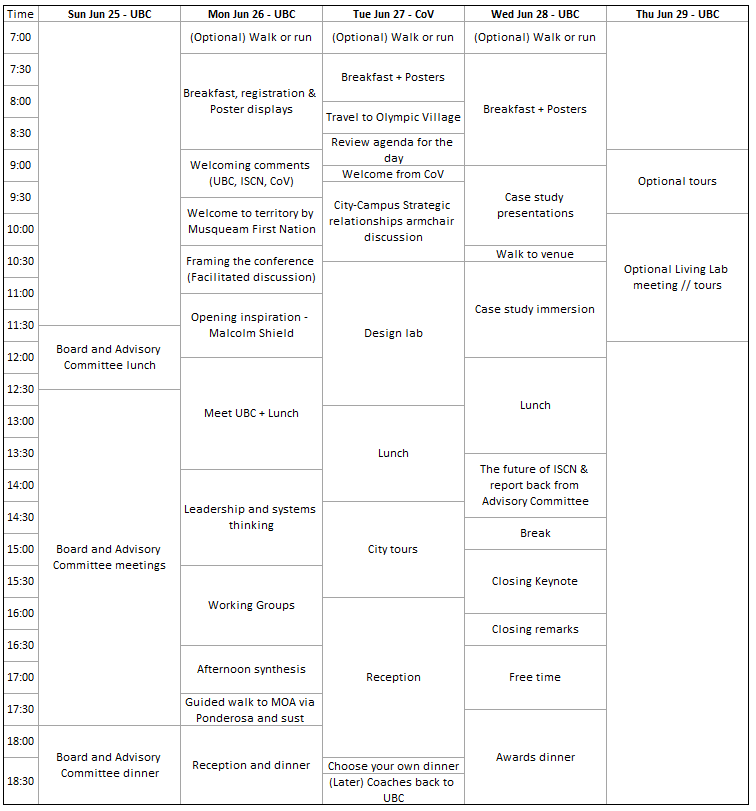 Please sign up for the ISCN mailing list to receive updates on the ISCN 2017 conference.