2019 Call for Nominations Overview
The International Sustainable Campus Network (ISCN) is the premiere international forum for leading universities to share ideas and best practices for sustainable campus operations and integrating sustainability in research and teaching. The ISCN Sustainable Campus Excellence Awards promotes landmark projects that demonstrate how the environmental, social and economic issues of our time provide opportunities for university administrations and faculty alike to improve campus infrastructures and university administration and recognize opportunities to integrate them into their research and learning activities.
About the Awards
The ISCN is pleased to announce the call for nominations for the Eleventh Annual International Sustainable Campus Excellence Awards. As the premier organization that provides international awards recognizing excellence in the areas of Whole Systems Approach, Partnerships for Progress, and Cultural Change for Sustainability, the ISCN is dedicated to building a gallery of outstanding projects that showcase excellence and leadership from around the globe. An additional Honorary Member Award is granted to outstanding projects at non-member institutions.
Winners of the awards will be recognized at the award ceremony as part of the ISCN 2019 Conference, Partnerships for Progress, at the University of São Paulo, June 11-14, 2019. All awardees will receive a plaque and will be featured in the ISCN gallery of landmark projects where they will serve as case studies to inspire university members on what is possible and how successful projects can be developed. Through the global presence of the ISCN, the visibility of the awards will not only fertilize the improvement of campus development internationally, but will also help continue the momentum for the awardees on their own campuses.
Categories
For ISCN Members:
Whole Systems Approach
Partnerships for Progress
Cultural Change for Sustainability
For Aspiring Members:
Awards Jury
René Schwarzenbach, on behalf of the ISCN Board
Victoria Smith and Melissa Goodall, on behalf of the ISCN Advisory Committee
Iain Patton, EAUC
Winners from 2018 –

Excellence in Building and Innovative Infrastructure: Tomas Refslund Poulsen, University of Copenhagen
Excellence in Campus Planning and Management Systems: Lauren Hennessy, Stanford University
Excellence in Innovative Collaboration: Karola Braun-Wanke, Freie Universität of Berlin
Excellence in Student Leadership: Costas Charalambous, University of Cyprus
Application Process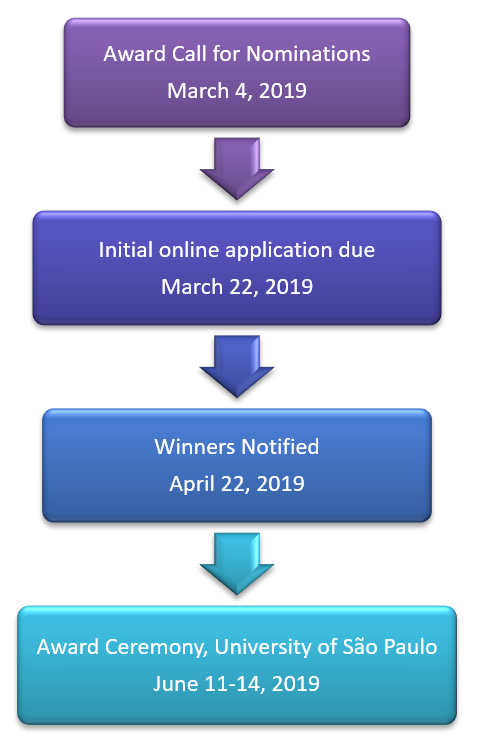 Application – Due March 22, 2019
The 2019 awards application is now closed. Thank you for your submissions!
Jury Decision – April 22, 2019
An international panel of experts that comprise the ISCN Award Jury will determine the winner in each category. The Jury will inform the winning candidates and prepare a laudation for the Awards Ceremony.
The Award Ceremony is part of the ISCN 2019 Conference hosted by the University of São Paulo, June 11-14, 2019.