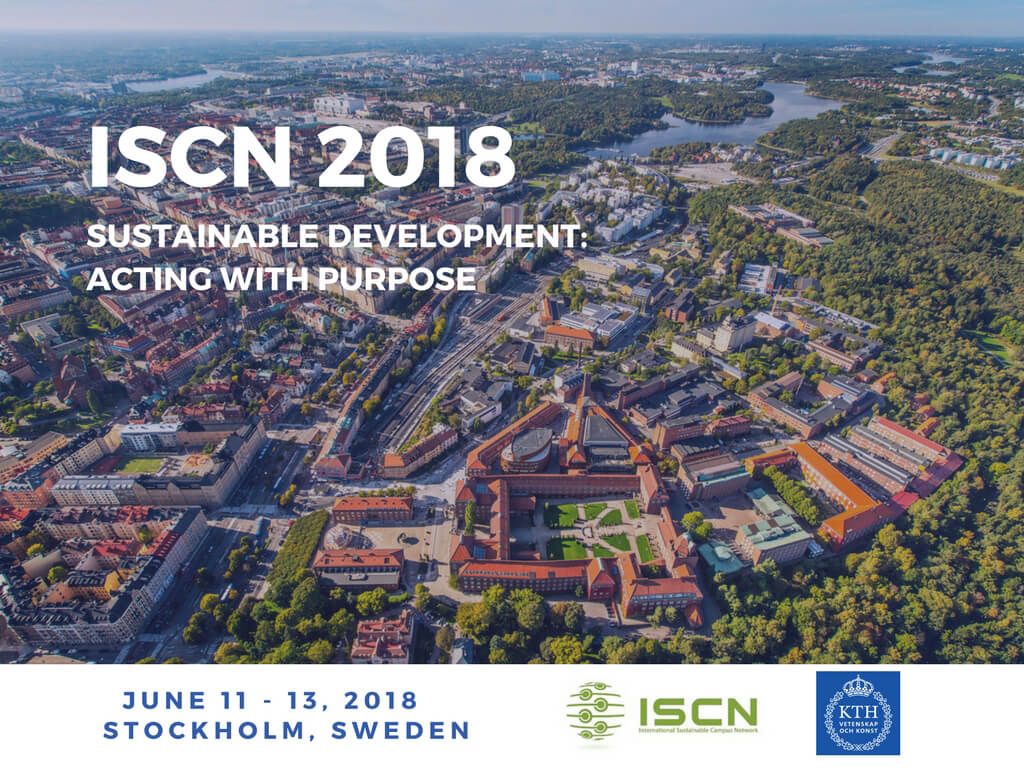 ISCN 2018 ran for three days at KTH Royal Institute of Technology in Stockholm, Sweden. The program aimed to engage and inspire participants as we not only evolve as a network but also as practitioners, administrators, staff, or students in our work on Sustainable Development: Acting with Purpose. Throughout the conference delegates were provided the opportunity to give updates on the ISCN Charter evolution and help us shape the future of the network and our collective contribution to sustainability in higher education.
ISCN 2018: Day 1 Plenary Presentations
ISCN 2018: Day 2 Plenary Presentations
ISCN 2018: Day 3 Plenary Presentations
Summary Report
Preface
With the 2018 Conference hosted by KTH Royal Institute of Technology, another important step has been made toward establishing ISCN as the global network supporting sustainable transformation in universities around the world. For the first time in the history of the ISCN conference, a call for contributions was launched, resulting in an overwhelming number of abstracts submitted from both member and non-member universities, of which were selected for short oral and poster presentations. As now evident during the conference, a considerable number of university representatives have taken ownership of the network, as reflected in a very active and passionate Advisory Committee, which was established only two years ago. We are very pleased with this development since it guarantees a lively and exciting future for the network.
In this spirit, we are looking forward to staying in touch with you throughout the year and hope to see you again next year, either in person or by remote conference participation, which we will be developing further in order to minimize travel emissions. As you will find in this report, there are many takeaways from the Stockholm conference that we will build on at the 2019 ISCN Conference at the University of São Paulo. Holding our next conference in South America will be a unique chance to strengthen our network in this part of the world.
We are grateful to so many people for advancing our network and supporting the conference and exchanges in the ISCN—too many to list them all here. As just a few representatives of this large group of innovators, we want to mention Victoria Smith from UBC for her tireless efforts in the participatory process for our Charter revision; the members of the Advisory Committee, including its co-chairs Heather Henriksen from Harvard and Melissa Goodall from Yale, for their engagement in driving our strategy forward; the members of the ISCN Board, including Steve Cannon who served as Vice President over the last couple of years; and all working group, panel, and session chairs and contributors. In particular, we'd like to thank the former Executive Director of the ISCN, Zena Harris, for her passionate support of the ISCN over the last few years. It has been a pleasure to work with Zena, and we are wishing her fulfillment and much success in her new ventures. Last but not least, we want to thank the entire KTH Royal Institute of Technology team for sharing their experiences at an institution that is deeply committed to sustainability, and for making us feel welcome in Stockholm!
René Schwarzenbach, President of the ISCN Board
Etienne Marclay, Vice-President of the ISCN Board
"Active participation in the shift to a sustainable society—Our responsibility"
On behalf of the KTH Royal Institute of Technology, I would like to thank everyone that joined us in June. Our team greatly appreciated the investment and engagement of ISCN members in the conference. We hope that this report will be an inspiration for their future work, and also for the work of those who could not attend the conference.
From the beginning, our goal at KTH was to showcase the work of as many ISCN members as possible. We are thrilled that so many of you were actively involved in the program. ISCN members submitted over a hundred abstracts, which formed the content of an inclusive and dynamic conference. We are also proud that participants will be able to publish their contributions to the ISCN 2018 conference in a special issue of the journal Sustainability.
At KTH we believe that it is the responsibility of Higher Education Institutions to actively participate in the shift to a sustainable society. KTH's ambition and priority is to be a leading university on sustainability. This requires fully integrating sustainability into the core activities, day-to-day operations, and campus development projects. ISCN has been and will continue to be an important platform for knowledge exchange to support this work at KTH. Together through ISCN, we can access the best examples of sustainability in practice.
Göran Finnveden
Vice President for Sustainable Development
KTH Royal Institute of Technology

Left to right: René Schwarzenbach, ISCN Board President, Etienne Marclay, Vice President of the ISCN Board, and Göran Finnveden, ISCN Board member and 2018 conference host. Photo: Teodor Axlund
ISCN Board and Advisory Committee Meetings
We were delighted to again offer a pre-conference extended meeting for the ISCN Board and Advisory Committee members to discuss ISCN strategy and path forward as we evolve as a network. The ISCN Board held its quarterly meeting and annual General Assembly meeting, in which they discussed formal matters including the ISCN's financial status, the Secretariat renewal, ISCN Conferences, and overall strategic direction of the network.
In parallel to the Board meeting, the ISCN Advisory Committee met. Advisory Committee co-chairs, Heather Henriksen, Director, Office for Sustainability, Harvard University and Melissa Goodall, Associate Director, Office of Sustainability, Yale University, planned and organized this half-day workshop with support from Victoria Smith, Director, Communications and Community Engagement, UBC Sustainability Initiative, and Zena Harris, Executive Director, ISCN.
The group engaged through a variety of interactive exercises focused on the values, benefits, relevance, and future of the ISCN. Four key topics were covered, which included:
Advisory Committee Governance
Charter Update
Working Group Evolution
Looking Forward
Main Conference | 11 - 13 June 2018
Welcome and Opening Remarks
Our conference kick-off officially began with a welcome from KTH Royal institute of Technology and the International Sustainable Campus Network (ISCN).
ConverStations
pdf Introducing ConverStations
Conference delegates dove right in to networking, learning, and engaging on case studies that were selected from the over 150 abstracts submitted. ConverStations, a session format used at KTH Royal Institute of Technology, included parallel sessions of no more than 25 minutes that are repeated three times. Participants selected tickets to attend three sessions of their choosing. In this fast-paced session, delegates joined 25-minute, engaging presentations on a variety of topics and had the opportunity to ask questions and make lasting connections with subject experts.
Speakers included:
Keynote address
Following the ConverStations sessions, conference participants reconvened to hear from our keynote speaker, Sverker Sörlin. Sverker is a renowned historian of ideas and professor of environmental history at KTH Royal Institute of Technology. He is currently a member of the Swedish Climate Policy Council which is charged with the task to evaluate Sweden's government policies to reach the zero CO2 emission target for the year 2045.
Networking Lunch | Collaboration for Sustainable Development: Networks Acting with Purpose
Conference delegates enjoyed a celebration of collaboration of networks and organizations. This lunch showcased examples of sustainability excellence arising from collaborations between Higher Education Institutes and their partners and networks.
Mia Edofsson, Head of Sustainability, Akademiska Hus
International Alliance of Research Universities (IARU)
NSCN as a part of NUAS network

MLUH (Environmental management in universities and colleges Sweden)
Miljöledning i myndigheter (Environmental management in government agency, Sweden)
IVL – Swedish Environmental Research Institute
THS: KTH Royal Institute of Technology's Student union
Students for Sustainability, Sweden
International Association of Universities (IAU)
Special address from KTH Royal Institute of Technology
Sigbritt Karlsson, President of KTH Royal Institute of Technology, welcomed conference delegates to the campus. Sigbritt shared her vision and mission for KTH Royal Institute of Technology, as a leading international university that is gender-balanced and has integrated sustainable development in teaching, learning, research and collaboration.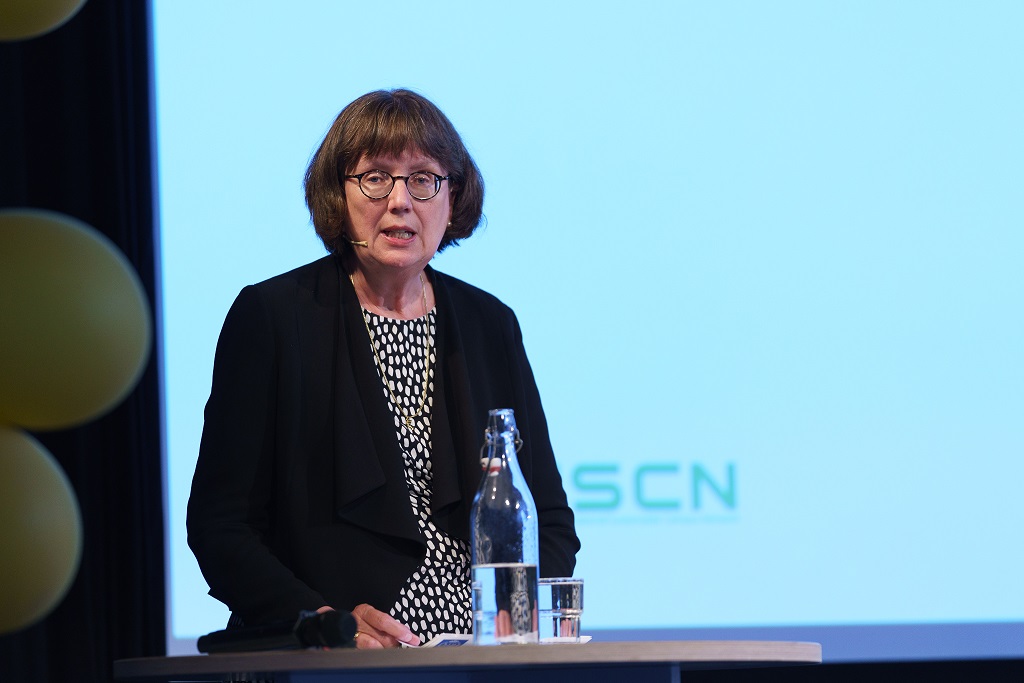 Sigbritt Karlsson, President of KTH Royal Institute of Technology addresses ISCN 2018 conference delegates. Photo: Teodor Axlund
ISCN 2018 Sustainable Campus Excellence Award Finalists Rapid Round
Finalists in the 2018 ISCN Awards were invited to share their projects on excellence in sustainability on campus in the categories of Building and Innovative Infrastructure, Campus Planning and Management Systems, Innovative Collaboration and Student Leadership. Presenters were challenged to deliver key points worth sharing in seven minutes.
The finalists were:
Ritsumeikan University, "Osaka Ibaraki Campus"
Federico Delfino, University of Genoa, "Savona Campus: Energia 2020 - Smart City Infrastructures at Savona Campus"
Alfred Cheng Ho, Nanyang Technological University, "North Spine Academic Building at NTU"
Tomas Refslund Poulsen, University of Copenhagen, "Sustainability in the Maersk Tower" (presenting in the Breakout session #1 on Day 2)
Tom Heel, University of Oxford, "Targeting Passivhaus"
Karola Braun-Wanke, Freie Universität of Berlin, "Schools@University for Sustainability + Climate Protection" (video)
Melissa Goodall, Amy Ho, and Tomas Refslund Poulsen, International Alliance of Research Universities, "Green Guide for Universities"
Heather Henriksen, Harvard University, "Harvard Healthier Building Materials Academy"
Erica Lay, Simon Fraser University, "SFU's 20-Year Sustainability Vision and Goals"
Ecole Polytechnique Federale de Lausanne (EPFL), "15 years of sustainable mobility @EPFL"
Lauren Hennessy, Stanford University, "Motivating and Quantifying the Impacts of Behavior Change"
Clare Walker, The University of Melbourne, "Top Down, Down Under - a Framework for Sustainability at the University of Melbourne"
Leong Sat Sing, UCSI University, "Youth Beyond Boundaries"
Costas Charalambous, University of Cyprus, "Students Achieving Valuable Energy Savings"
University of Zurich, ETH Zurich, University of Geneva (plus 18 other tertiary education institutions in Switzerland), "Swiss Sustainability Week"
KTH Royal Institute of Technology Campus Tours and KTH Live-in Lab
Participants joined tour guides to explore the campus and gathered at the KTH Royal Institute of Technology Live-in Labs for dinner. The guides spoke about the history at KTH Royal Institute of Technology, the importance of art to campus, and how new modern facilities were designed to blend in with its traditional campus.
Dinner at the Live-in Lab
With its long-term ownership, active management and residential development, sustainability has been a theme in Einar Mattsson's business for more than 80 years. As Stockholm's largest private owner of rental housing and with a generational perspective on our property ownership, it is natural to invest in energy efficient real estate. The business was early to adopt a passive house standard as a minimum level in production and has built houses with both zero energy and plus energy performance. In the research area at the KTH Royal Institute of Technology campus, it has planned for a plus energy rate where it takes the next steps regarding technology, optimized climate scale and energy consumption.
In Siena, delegates heard about KTH-Live-In Lab, a testbed for sustainable housing, and this was a chance to experience the lab first hand. On Monday June 11, KTH Live-In Lab opened its unique apartments exclusively to ISCN 2018 participants. All participants received a tour and learned how these dynamic and flexible apartments will be used for research and development to accelerate innovation in the construction and real-estate sectors using Cleantech / Construction technology.
Jonas Anund Vogel, director of KTH Live-In Lab and a PhD student at KTH Royal Institute of Technology shared his research on obstacles to the implementation of new technology in connection with the production and renovation of housing.
Udda Djur, Odd Creatures, provided our entertainment for the evening. With Greger Henriksson in the lead, Odd Creatures sings about people, nature, history and politics. The band started in Malmö and released a vinyl single as Haricots Verts. In 2016, the band was re-formed in Stockholm with new singles (search Udda Djur on Spotify, iTunes, etc.) and will soon release an LP. Among the current band members are Greger Henriksson (KTH Royal Institute of Technology), Nils Brown (KTH Royal Institute of Technology), Per Landin, Åsa Nyblom (formerly KTH), Tomas (former KTH Royal Institute of Technology) Magnus Svanfeldt and Lina Isacs (KTH Royal Institute of Technology) - alla researchers within sustainability. Udda Djur is also planning LP releases in Stockholm, Visby and Malmö.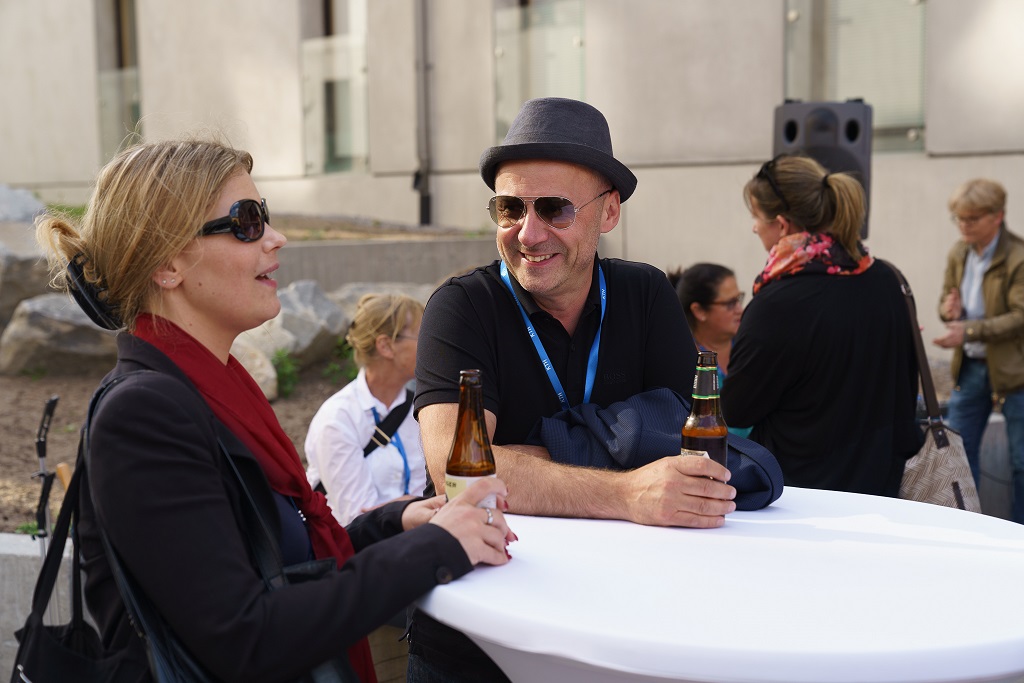 ISCN conference delegates enjoy dinner at the Live-In Lab. Photo: Teodor Axlund
Global Priorities, Educated Solutions: the role of academia in advancing the Sustainable Development Goals
The ISCN was pleased to collaborate with the International Alliance of Research Universities (IARU) for this IARU-led morning workshop to explore the role of academia in advancing the SDGs. The purpose of this session was to identify the specific pathways for universities to engage on fostering dialogue, innovating, measuring, reporting, and developing solutions for the 17 goals. This morning session included:
Welcome
Plenary:

Harro Von Blottnitz, University of Cape Town: "Connecting Research to the SDGs: an overview of the University of Cape Town 2015 Research Report"
Khatharya Um, University of California Berkeley: "Global Refugees: Critical Issues and Relevance to Sustainable Development Goal"
XUE Ling, Peking University: "Teaching Sustainability with Tea: a case study from the Yunnan Province of China"
Breakout sessions:
Plenary – reporting from breakouts
Plenary – closing keynote (via VC)

Jeff Sachs, Director, Sustainable Development Solutions Network, and Director, Center for Sustainable Development, Columbia University
Our closing keynote, Jeff Sachs, discussed the profound nature of the SDGs to transform a world of social injustice and inequalities into a more sustainable world, by undergoing a huge transformation in society.
Networking Lunch and Poster Exploration
Delegates were invited to cultivate relationships and explore posters of projects from all over the world.
Sustainability Practitioners and Traveling the Globe - Are we walking the talk?
In this session, we tackled the tension between travel and sustainability with Kevin Anderson, Zennström, visiting professor in Climate Change Leadership at CEMUS, Uppsala University. Kevin is Professor of Energy and Climate Change at the University of Manchester and Deputy Director of the internationally renowned Tyndall Centre for Climate Change Research. He is one of Great Britain's most recognized climate researchers and is well known for his skills in communicating climate science to decision makers, the business-sector, civil society and media. He has been pivotal in establishing research around carbon budgets and the transformation of different societal sectors to acceptable mitigation-levels based on politically agreed goals.
Kevin discussed how traveling has become part of the identify of practitioners globally and how we must create accountability in the industry. Our panelists provided innovative examples of how their universities are attempting to address these concerns.
Moderator: David Nilsson
Keynote: Kevin Anderson, Zennström visiting professor in Climate Change Leadership at CEMUS, Uppsala University
Panelists:
Breakout sessions
The breakout sessions provided the opportunity to choose an area of interest and dive into detail.
Topics and sessions:
1) Building, Culture, Wellbeing
Session Chair: Sarah Brylinsky, Sustainability Communications & Integration Manager, Cornell University
Speakers:
2) Developing strategic city – university partnerships for advancing sustainability outcomes
3) Educating for sustainability – Exploring competency-based approaches to teaching sustainability education
4) Network for Innovation (2-part session) - Strategic Networking for Sustainability: Insights from Research and Practice
Facilitators:

Katrin Risch, Program Manager 'University Alliance for Sustainability', Freie Universität Berlin, Germany
Andreas Wanke, Head, Unit for Sustainability and Energy Management, Freie Universität Berlin, Germany
Daniel Lang, Research project 'Sustainability at Higher Education Institutions: develop – network – report', Leuphana University, Lüneburg, Germany
Judith Kahle, Research project 'Sustainability at Higher Education Institutions: develop – network – report', Leuphana University, Lüneburg, Germany
5) Living Lab - Campus as Living Lab Co-Design Workshop
6) STUDENT SESSION: Student engagement and reinforcing sustainability in HEIs
Facilitator: Malin Eriksson, is a second-year student at KTH Royal Institute of Technology studying materials science and engineering and working with integration of sustainability in education for THS Student Union.
Chair: Veine Haglund is a third-year student at KTH Royal Institute of Technology studying Education and engineering and has worked as Head of Educational Affairs for THS Student Union.
Contributors:

Moa Persson is a coordinator for student participation within sustainability at Gothenburg Centre for Sustainable Development, at University of Gothenburg and Chalmers University of Technology, Sweden.
Alexis Engström is a course coordinator at the student-led centre for environment and development studies (CEMUS) at Uppsala University.
Danielle Pal is a fourth-year student at Trinity College studying Environmental Studies and Psychology
Nathan Postma is a fourth-year student at Trinity College studying Environmental Studies and Cultural Anthropology
Emily Shaw is a fourth-year student at Trinity College studying Political Science and Environmental Studies with minor in Economics
Nicolas Côté is a fourth-year student at University College studying Physics and Socio-cultural anthropology
Rashad Brugmann is a third-year student in Civil Engineering with a planned minor in Environmental Engineering at the Faculty of Applied Science and Engineering
Official Welcome and Dinner Stockholm City Hall - home of the Noble Prize reception
Participants were invited to a buffet dinner hosted at Stockholm at City Hall, where participants were welcomed to the city of Stockholm. Delegates were able to tour the city's committee meeting room learn about the art and design of the facility and enjoy beautiful views of the city. Participants were then able to hit the town and enjoy the remainder of their evening in Stockholm.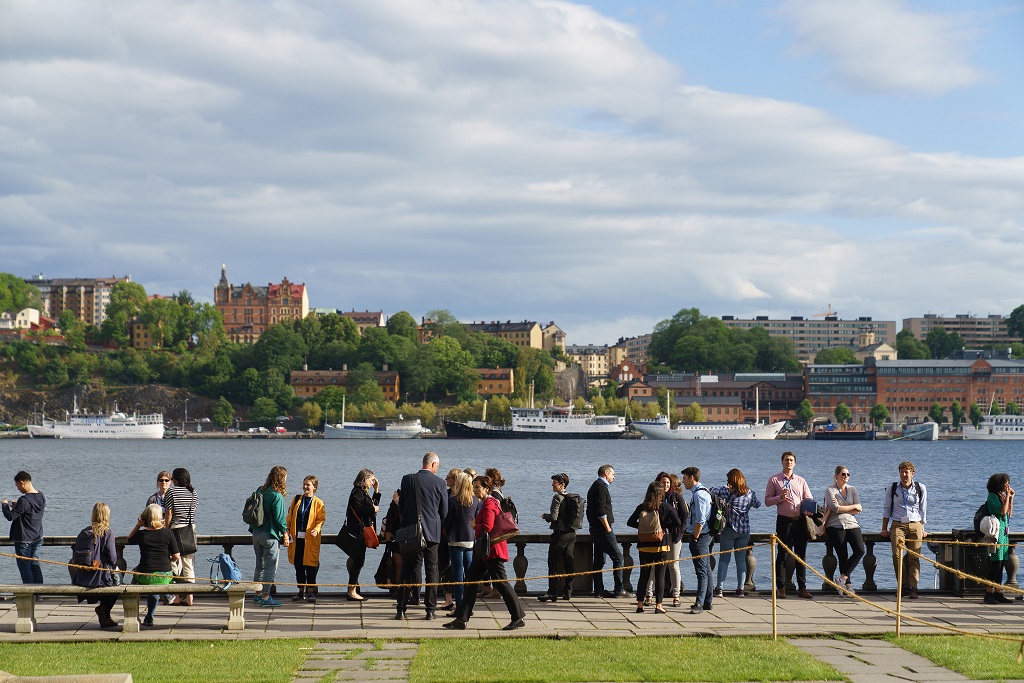 ISCN conference delegates enjoy the stunning views at Stockholm City Hall. Photo: Teodor Axlund
On our final day of the ISCN 2018 conference we showcased participants! This day was dedicated to projects presented in various formats – poster and talks – and feedback throughout the conference on ISCN's evolution. Throughout the day we heard from peers, ISCN leadership, inspirational speakers and celebrated the Award winners in a closing gala.
Feedback from Breakout groups
This session provided key points worth sharing from each of our breakout groups from day 2, to allow delegates to identify lessons to take back to their campuses.
ISCN 2018 Charter Design Lab
The ISCN Charter Writing Group has been meeting throughout the spring to gather information and engage with a cross-section of stakeholders to inform the charter writing process. The Charter Design Lab was open throughout the conference and allowed conference participants to provide feedback on the Charter draft, share insight on how to activate it on campus and more.
On day three of the conference, Victoria Smith, chair of the Charter Writing Group presented the Charter to delegates and showed a video of the feedback and progress made in the Design Lab. The session concluded with a ceremonial signing of the Charter draft.
Case Study Rapid Round
In this rapid round we heard about projects from around the world. Each presenter took the stage for 7 minutes to share key points to inspire your next project on campus.
Presenters include:
Sarah Campbell, British Columbia Institute of Technology (BCIT): "The Campus as an Ecocity Fractal"
Christophe Duwig, KTH Royal Institute of Technology and Janne Wikström, Hanaholmen, Cultural Centre for Sweden and Finland, "Including sutainability into doctoral studies"
Tom Heel and Rupert Stuart-Smith, University of Oxford, "Designing effective behaviour change interventions"
Nilesh Y. Jadhav, Nanyang Technological University, "Achieving Sustainability Campus Goals with Virtual Environment Multi-Physics Modelling"
Yolanda Mendoza, Universidad Autónoma de Tamaulipas: "Starting Sustainability: From Research to a Sustainable Development Plan"
Francois Miller, McGill University, "Catalyzing a Culture of Sustainability at McGill University with the Sustainability Projects Fund"
Caroline Savage, Princeton University, "Campus as Lab: Best Practices in North America"
Giulia Sonetti, Politecnico di Torino: "When the buildings become sentient - Exploring tools for human centric energy strategy in Universities"
Leendert Verhoef, Delft University of Technology: "Living Labs for sustainability: Towards a learning system for University Campuses"
Advisory Committee & Board updates
The ISCN Advisory Committee and Board shared updates from their pre-conference meeting, welcomed new members and highlighted what is on the horizon for our network.
Transition from a charter development subcommittee to a charter launch committee
Establish a group to refine the definitions and establish the process for the Shared Interest Groups
Create the member engagement pilot program
With the Board draft a strategic plan for the ISCN
Leadership for Sustainable Development
Sigbritt Karlsson, President of KTH Royal Institute of Technology
Patrick Prendergast, President & Provost, Trinity College Dublin, the University of Dublin
Pam Fredman, President of International Association of Universities (IAU)
Moderator: Steve Cannon, ISCN Board President
To conclude the main conference, ISCN Board member Steve Cannon spent a few minutes reflecting on the leadership cllanege in the modern university.
Steve suggested that in order to lead successful and sustainable change in universities you need to do three things:
create a sense of urgency
develop an appropriate vision and strategy
create a supporting infrastructure
Closing remarks and Reflections
As we concluded our sessions of the main conference, thanks were owed to the organizers at KTH Royal Institute of Technology, the ISCN Secretariat team, and all staff and volunteers involved with conference planning and execution.
The ISCN was delighted to conclude the event by announcing its next conference location! ISCN 2019, our 13th annual conference, will be hosted by the ISCN member school University of São Paulo (USP) in São Paulo, Brazil.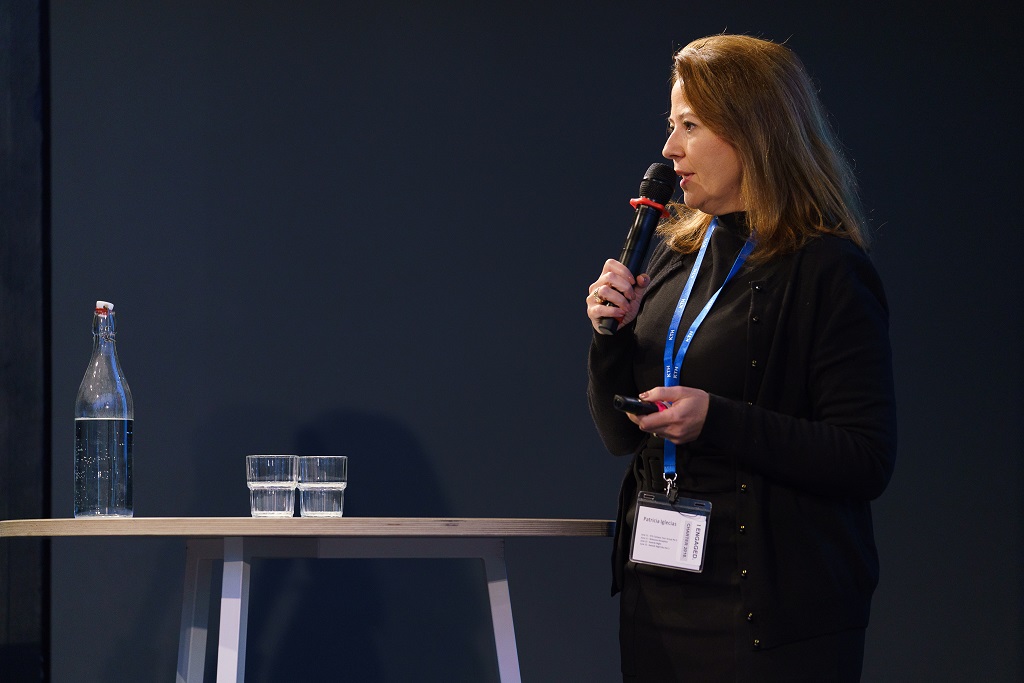 Patricia Iglesias, University of Sao Paulo, announces the 2019 ISCN Conference location. Photo: Teodor Axlund
Awards Gala at ROSENDALSTRÄDGÅRD
Conference delegates were invited to our final evening together at Rosendals Trädgård. Visitors were able to explore the beautiful gardens before enjoying a farm-to-fork dinner. During dinner, we announced the ISCN 2018 Sustainable Campus Award winners. Each awardee received a plaque and gave an acceptance speech, expressing thanks to their colleagues.
The winners of the 2018 ISCN Sustainable Campus Excellence Awards were:
Building and Innovative Infrastructure Award: University of Copenhagen, Denmark
Campus Planning and Management Systems Award: Stanford University, United States
Innovative Collaboration Award: Freie Universität of Berlin, Germany
Student Leadership Award: University of Cyprus, Cyprus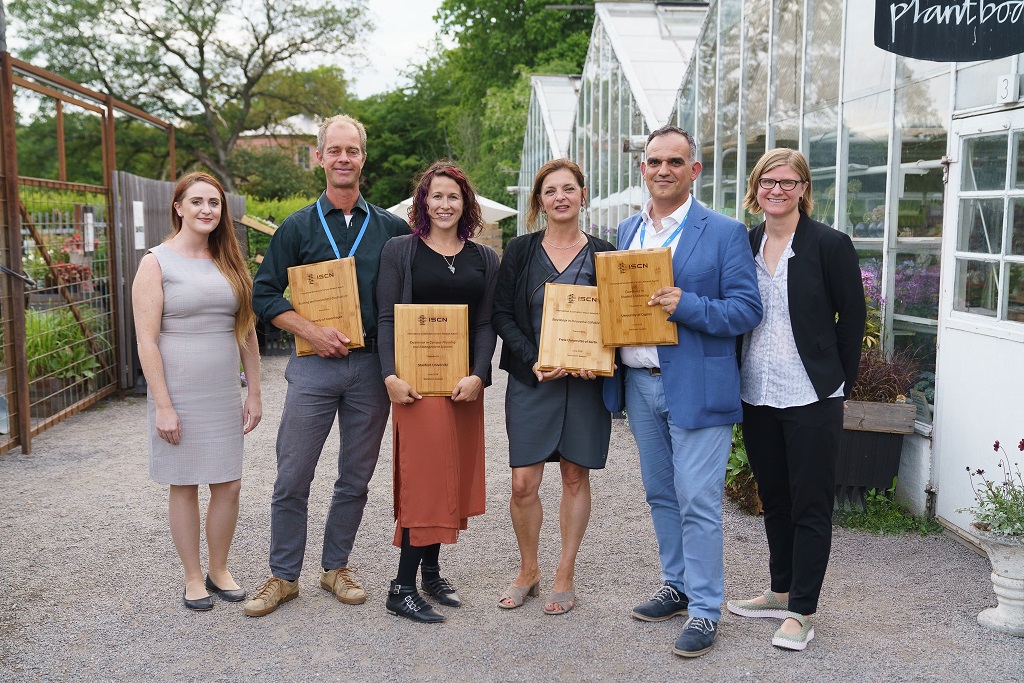 2018 ISCN Award Winners. Photo: Teodor Axlund
As we wrapped up our final evening, the ISCN thanked its participants for bringing so many diverse backgrounds and perspectives to the conference. It was a pleasure witnessing all the relationships forged throughout ISCN 2018. We look forward to continuing a conversation around collaboration, knowledge exchange, and future ISCN programs and sustainability initiatives in higher-ed sustainability. We hope you will join us next year at the University of São Paulo (USP) in Brazil!