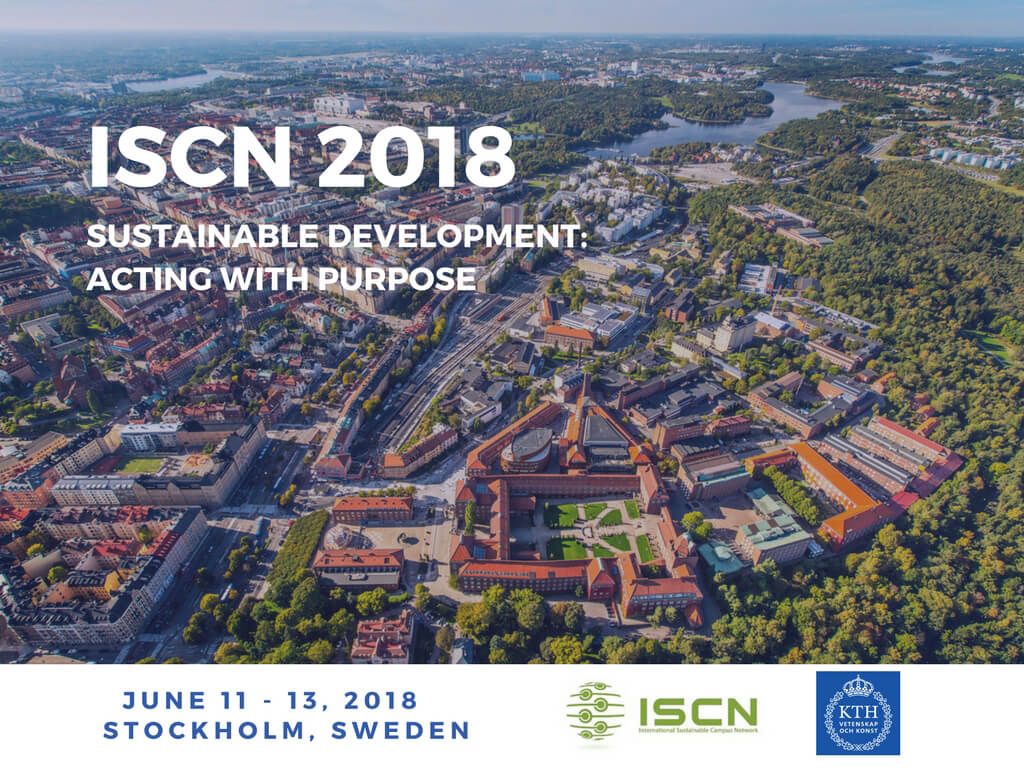 Program Overview
We look forward to welcoming you to ISCN 2018 this June at KTH in Stockholm, Sweden. We are preparing a program to engage and inspire participants as we not only evolve as a network but also as practitioners, administrators, staff, or students in our work on Sustainable Development: Acting with Purpose.
Throughout the conference we will provide the opportunity for delegates to give updates on the ISCN Charter evolution and help us shape the future of the network and our collective contribution to sustainability in higher education.
Check back for updates as our program evolves. Please note, registration will close on 30 April 2018.
Detailed Conference Program
11:30 - 17:00 | ISCN Board and Advisory Committee Meetings
We are delighted to again offer a pre-conference extended meeting for the ISCN Board and Advisory Committee members to discuss ISCN strategy and path forward as we evolve as a network.
Please note that this meeting is only intended for our ISCN leadership, however, we will update the full conference delegation on key priorities during the main conference.
Main Conference | 11 - 13 June 2018
This year we have arranged for discounts at hotels in Stockholm that are conveniently located to KTH. Additionally, we invite you to enjoy your breakfast at your hotel and join us at KTH each day. There will be several modes of transit available to choose from so please stay tuned for details on getting around the city and our conference venues.
7:30 - 9:00 Cofee & registration/check-in
Come early and register and connect with colleagues before we dive into our main conference program.
9:00 - 9:30 Welcome and Opening Remarks
Our conference kick-off officially begins with a welcome from KTH Royal institute of Technology and the International Sustainable Campus Network (ISCN).
9:30 - 11:00 ConverStations
We'll dive right in to networking, learning, and engaging on case studies that were selected from the over 150 abstracts submitted. ConverStations is a session format used at KTH and include parallel sessions of no more than 25 minutes that are repeated three times. Each ConverStation table has a maximum of 8 participants - depending on total number of attendees. This will be fast paced and informative!
Speakers include:
Fletcher Beaudoin, Portland State University: "Building Powerful partnerships: Lessons from Portland's Climate Action Collaborative"
Federico Delfino, University of Genoa: "The University of Genoa Smart City Living Lab"
Héctor Danilo Hugo Ullauri, Universidad de Guayaquil: "Proyecto Delta"
Sara Eriksson, KTH: "KTH Campus plan 2018-2023"
Luca Fontana, Swiss Federal Institute of Technology in Lausanne (EPFL): "EPFL Mobility Plan"
Steffen Foss Hansen, DTU Nanotech - Dept. of Micro and Nanotechnology, Technical University of Denmark: "Sustain - an annual national conference on sustainable technology"
Meeri Karvinen, Aalto University: "What do our students know about sustainable development and how to assess it?"
Ullika Lundgren, University of Gothenburg, Sweden: "Environmental Management on a distance"
Ulrika Lundqvist, Chalmers University of Technology, "Integrating sustainable development in engineering education- Comparison of change processes and results at two higher education institutions"
Elena Malakhatka, KTH Royal Institute of Technology: "Continuity, flexibility and accessibility of living labs through Virtual Reality"
Lathika Chandra Mouli, Energo Labs (Corporate): "Establishing the Association of Blockchain Campuses (ABC)"
Aurore Nembrini, EPFL: "Act for Change, a Challenge to experiment a more sustainable lifestyle on EPFL campus"
Pamela Ochieng, Mount Kenya University: "Promoting Education for Sustainable Development: The Role of Technology in Supporting the Development of Graduate Employability"
Prinya Thaewanarumitkul, THAMMASAT UNIVERSITY, "Thammasat @ Rangsit Campus : A Leading Model of Smart Campus - Smart Travelling"
Zoe Robinson, Keele University: "Listening for Sustainability: Creating conversations for change"
Anders Rosén, KTH, "Bottom-up integration of sustainable development in engineering educations"
Paul Wolff, Massachusetts Institute of Technology, "Living Lab Immersion"
11:05 - 11:45 Keynote address
Sverker Sörlin, a renowned historian of ideas and professor of environmental history at KTH Royal Institute of Technology. He is currently a member of the Swedish Climate Policy Council which is charged with the task to evaluate Sweden's government policies to reach the zero CO2 emission target for year 2045.
11:45 Transition to lunch
12:00 - 13:30 Networking Lunch | Collaboration for Sustainable Development: Networks Acting with Purpose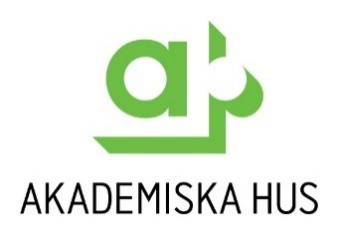 Join us for a celebration of collaboration of networks and organizations - A lunch showcasing examples of sustainability excellence arising from collaborations between Higher Education Institutes and their
partners and networks. This lunch is hosted by Akademiska hus in collaboration with KTH. Akademiska Hus
Confirmed networks:
International Alliance of Research Universities (IARU)
NSCN as a part of NUAS network

MLUH (Environmental management in universities and colleges Sweden)
Miljöledning i myndigheter (Environmental management in government agency, Sweden)
IVL – Swedish Environmental Research Institute
THS: KTH's Student union
Students for Sustainability, Sweden
13:30 - 13:50 Special address from KTH
Sigbritt Karlsson, President of KTH Royal Institute of Technology to address ISCN 2018 conference delegates
13:50 - 15:30 ISCN 2018 Sustainable Campus Excellence Award Finalists
Finalists in the 2018 ISCN Awards will be invited to share their projects on excellence in sustainability on campus in the categories of Building and Innovative Infrastructure, Campus Planning and Management Systems, Innovative Collaboration and Student Leadership.
15:30 - 17:00 KTH Campus Tours and KTH Live-in Lab
Discover KTH Campus and explore some of our laboratories incorporating sustainability practices. Participants will have the option to use an app or join tour guides to explore our campus. We will then gather at the KTH Live-in Labs for dinner.
17:00 - 19:00 Dinner at the Live-in Lab
In Siena you heard about KTH-Live-In Lab, a testbed for sustainable housing, now is your chance to experience the lab first hand. On Monday June 11, KTH Live-In Lab will open their unique apartments exclusively to ISCN 2018 participants. All participants will receive a tour and learn how these dynamic and flexible apartments will be used for research and development to accelerate innovation in the construction and real-estate sectors using Cleantech / Construction technology.
Jonas Anund Vogel, director of KTH Live-In Lab and a PhD student at KTH will share his research on obstacles to the implementation of new technology in connection with the production and renovation of housing.
Enjoy breakfast at your hotel then join us on campus for posters and a day of engagement!
9:00 Introduction to the day
9:30 - 12:00 Global Priorities, Educated Solutions: the role of academia in advancing the Sustainable Development Goals
ISCN is pleased to be collaborating with the International Alliance of Research Universities (IARU) for this IARU-led morning workshop to explore the role of academia in advancing the SDGs. The purpose of this session is to identify the specific pathways for universities to engage on fostering dialogue, innovating, measuring, reporting, and developing solutions for the 17 goals. This morning session will inlcude:
Welcome

Melissa Goodall, Yale University

Plenary: Session Keynote
Plenary: TED style talks

Harro Von Blottnitz, University of Cape Town

Breakout sessions focused on:

Scholarship for solutions: teaching and research in the context of the SDGs.

Dario Cottafava, University of Turin: "Linking Education for Sustainable Development with Open Innovation"

Walking the talk: how campuses can lead by example in terms of operational excellence and using the campus as a test bed for innovation.

Leanne Denby, Macquarie University: "Integrating the SDGs into universities"

Next generation innovation: the role of students in advancing world-changing ideas.

Erin Schutte Wadzinski, Yale University, "Yale Young Global Scholars Program: Sustainable Development & Social Entrepreneurship"
Dimitris Tsaltas, Cyprus University of Technology: "Taking a SUSTAINable shortCUT"

Service for society: universities as thought-leaders and collaborative partners in addressing global challenges.

Wendy Purcell, Harvard University: "Living Labs for sustainability: Towards a learning system for University Campuses"

Plenary – reporting from breakouts
Plenary – closing keynote
12:00 - 13:00 Networking Lunch and Poster Exploration
We invite you to cultivate your relationships and explore posters of projects from all over the world.
13:00 - 14:30 Sustainability Practitioners and Traveling the Globe - Are we walking the talk?
Join us as we tackle the tension between travel and sustainability. We are pleased to welcome Kevin Anderson, Zennström visiting professor in Climate Change Leadership at CEMUS, Uppsala University. Kevin is Professor of Energy and Climate Change at the University of Manchester and Deputy Director of the internationally renowned Tyndall Centre for Climate Change Research. He is one of Great Britain's most recognized climate researchers and is well known for his skills in communicating climate science to decision makers, the business-sector, civil society and media. He has been pivotal in establishing research around carbon budgets and the transformation of different societal sectors to acceptable mitigation-levels based on politically agreed goals.
Further, we will hear from you! We aim to incorporate live, in-person insight as well as hear from practitioners virtually.
Moderator: David Nilsson
Keynote: Kevin Anderson, Zennström visiting professor in Climate Change Leadership at CEMUS, Uppsala University
Panelists:

Lukas Buehler, ETH (via video link): "Virtual conferences to reduce academic travel ETH"
Reto Knutti, ETH: "Mobility platform"
Aleksandra Mandic and Luca Fontana, EPFL," Reducing the CO2 footprint of business air travel at EPFL"
Eddi Omrcen, The University of Gothenburg, "Internal Climate Fund"
14:30 Coffee break
15:00 - 17:00 Breakout sessions
This is the opportunity to choose an area of interest and dive into detail.
Confirmed topics and sessions thus far:
1) Building, Culture, Wellbeing
Session Chair: Ying Hua, Cornell University
Speakers:

Ben Ashby, ARUP: "Servicing the circular economy: establishing the cost and carbon case for adopting circular economy principles in MEP systems for higher education buildings"
Burak Asiliskender, Abdullah Gul University School of Architecture: "Architectural and Socio-cultural Sustainability: Abdullah Gul University Sumer Campus"
Meri Löyttyniemi, Aalto University and Aalto Campus and Real Estate, Finland "Aalto Green Campus and new headquarters retrofitted in Dipoli-building"
John Madden, University of British Columbia: "Advancing toward net positive ecological and human wellbeing through UBC's Green Building Plan"
Thian-Guan PECK, National University of Singapore: "The Application of Policies, Practices and Technologies to Improve Energy Efficiency in a Research Intensive University- A Case Study of the National University of Singapore"
Tomas Refslund Poulsen, University of Copenhagen: "Sustainability in the Maersk Tower"
2) Developing strategic city – university partnerships for advancing sustainability outcomes
Session Facilitators: Fletcher Beaudoin, Portland State University and Victoria Smith, University of British Columbia
3) Educating for sustainability – Exploring competency-based approaches to teaching sustainability education
Facilitators:

David Bookhart, Hong Kong University of Science and Technology (lead facilitator)
Claudia Thea, Universität Hamburg: "Interactive Workshop: Sustainability seen from a multilingual perspective"
Saman Khan, Western Michigan University: "Sustainability in higher education: Instructor's perspective on Learning Outcomes of Sustainability focused courses in higher education institute
Hélène Hermansson-Järvenpää, KTH
Claudia Schmitt, Universität Hamburg
This workshop is intended to explore new ways of developing, testing, and integrating core sustainability ideas, competencies, skills, and approaches in coursework to help strengthen the understanding of sustainability outside of traditional content-based learning strategies. The workshop will explore:
How to focus on sustainability aptitudes, competencies, and skill-building as pathways for teaching sustainability education
Whether this approach can help better assess levels of sustainability literacy and development of meaningful learning outcomes
What kinds of issues transcend cultural, geographic, and language barriers, and how to find common ground
How to better assess these competencies / skill-building approaches in the context of career development and preparing students for the needs of the 21st century workforce
The format will be a combination of short presentations for background, participatory discussions, breakout group tasks, and then reconvene for reflection.
4) Network for Innovation (2-part session)
Facilitators: Katrin Risch, Andreas Wanke, Freie Universität Berlin, "University Alliance for Sustainability: Fostering Sustainability in HEIs via International Cooperation"
How do we bring sustainable development, universities and international cooperation together in a way that will benefit all? The University Alliance for Sustainability (UAS) focuses on that question by developing and implementing a whole-institution approach. Freie Universität Berlin presents a case study of the internal impacts that an international network committed to sustainable development can unfold in the area of teaching. The presentation will introduce projects regarding sustainability-related curriculum assessment and development as well as the launch of a digital "Sustainability Toolbox". Participants will also be encouraged to (re-)think the roles, responsibilities and opportunities international sustainability networks in HEIs could unfold in an interactive facilitation.
Facilitators: Daniel Lang, Stephanie Jahn, Judith Kahle, Luphana University Lüneburg
The point of departure of our session is the German multi-university project "HochN -Sustainability at higher education institutions (HEI): develop – network – report". We´ll start the workshop with a short presentation of first insights from this project related to:
the current landscape of sustainability-oriented research and
good practices of implementing sustainability research at HEI in Germany
In the second part, we will use a design thinking format to explore similarities, differences and potential for mutual learning, international networking and future development of implementing sustainability in research of HEI across the globe. Moreover, we want to discover potential collaborations with sustainability research from non-university research institutions and not the least with efforts from private, governmental, civic and civil actors.
5) Living Lab
Facilitators: Julie Newman, MIT and Leendert Verhoef, TU Delft
A Next Generation approach to engaging the Campus as a 'Living Lab' has emerged that catalyzes applied research and informal learning on common sustainability challenges. After the 2017 ISCN Vancouver Conference, several ISCN members have developed a Campus as Living Lab Framework. We will use this framework as a starting place for discussion and exploration of how to scale up our efforts across our global landscape of campuses.
The workshop is designed for colleagues at all stages of launching and running living labs on and around their campuses. In the workshop we will touch upon topics such as:
Living lab design for impact and innovation
Developing a value proposition for Living Labs on your campus
Campus data acquisition; tracking and analysis and managing risk;
Educational and research outcomes;
Solution design, applicability, scalability and culture.
Please join us for a dynamic dialogue. Bring your own experiences and challenges to the table to advance your Living Lab objectives on your campus and join us in developing a network of Living Lab projects and measured impacts!
Note: You may receive some preparatory reading material prior to the workshop
6) STUDENT SESSION: Student engagement and reinforcing sustainability in HEIs
Students live in a very open and creative environment and are often helpful in innovative processes with new ideas and lots of dedication. This session explores the role of the student as a driving force for higher education. How can student engagement be nourished and involved in decision-making processes for higher education?
Facilitator: Malin Eriksson, Student, KTH
Contributors:

Danielle Pal is a fourth-year student at Trinity College studying Environmental Studies and Psychology
Nathan Postma is a fourth-year student at Trinity College studying Environmental Studies and Cultural Anthropology
Emily Shaw is a fourth-year student at Trinity College studying Political Science and Environmental Studies with minor in Economics
Nicolas Côté is a fourth-year student at University College studying Physics and Socio-cultural anthropology
Rashad Brugmann is a third-year student in Civil Engineering with a planned minor in Environmental Engineering at the Faculty of Applied Science and Engineering
17:00 - 18:00 Transition to Stockholm City Hall for Dinner
18:00 Official Welcome and Dinner Stockholm City Hall - home of the Noble Prize reception
On our final day of the ISCN 2018 conference we will showcase you! This day is dedicated to your projects presented in various formats – poster and talks – and your feedback throughout the conference on ISCN's evolution. Throughout the day we will hear from our peers, ISCN leadership, inspirational speakers and celebrate the Award winners in a closing gala.
8:30 – 8:40 Introduction to the day
8:40 – 9:40 Feedback from Breakout groups
This session is for key points worth sharing from each of our breakout groups from day 2. What do conference delegates need to know and what can they take back to their campuses?
9:40 – 10:20 ISCN 2018 Charter Design Lab
The ISCN Charter Writing Group has been formed and is meeting throughout the spring to gather information and engage with a cross-section of stakeholders to inform the charter writing process. We will hear from the Writing Group throughout the conference, providing updates and real-time writing, so we may make significant progress on the evolution of the ISCN Charter.
10:20 – 10:40 Conference delegation photo + Coffee
10:40 – 11:40 Case Study Rapid Round
In this rapid round we will hear about projects from around the world. Each presenter will take the stage for 7 minutes to share key points to inspire your next project on campus.
Presenters include:
Sarah Campbell, British Columbia Institute of Technology (BCIT): "The Campus as an Ecocity Fractal"
Christophe Duwig, KTH Royal Institute of Technology and Janne Wikström, Hanaholmen, Cultural Centre for Sweden and Finland, "Including sutainability into doctoral studies"
Tom Heel, University of Oxford, "Designing effective behaviour change interventions"
Priyanka Rameshchandra Mehta, Nanyang Technological University, "Achieving Sustainability Campus Goals with Virtual Environment Multi-Physics Modelling"
Yolanda Mendoza, Universidad Autónoma de Tamaulipas: "Starting Sustainability: From Research to a Sustainable Development Plan"
Francois Miller, McGill University, "Catalyzing a Culture of Sustainability at McGill University with the Sustainability Projects Fund"
Caroline Savage, Princeton University, "Campus as Lab: Best Practices in North America"
Giulia Sonetti, Politecnico di Torino: "When the buildings become sentient - Exploring tools for human centric energy strategy in Universities"
Leendert Verhoef, Delft University of Technology: "Living Labs for sustainability: Towards a learning system for University Campuses"
11:45 – 12:00 Walk to lunch
Lunch 12:00 - 13:30
Lunch and poster exploration
13:40- 14:30 Advisory Committee & Board updates
The ISCN Advisory Committee and Board will share updates from their pre-conference meeting, welcome new members and highlight what is on the horizon for our network.
14:35 – 15:30 Leadership for Sustainable Development
Sigbritt Karlsson, President of KTH Royal Institute of Technology
Additional speakers to be confirmed
15:30 – 16:00 Closing remarks and Reflections
16:00 – 16:30 Networking and Final Charter Design Lab
17:30 Transport to Awards Ceremony
Book a city bus – It is a 20-minute ride directly from campus! The bus leaves every 15 minutes.
Or delegates may take public transit.
Guides will be available to assist with navigating to the Award venue.
18:00 Awards Gala at ROSENDALSTRÄDGÅRD
Arrive early to enjoy the venue! Dinner will be served at 18:30
During dinner, we will announce the ISCN 2018 Sustainable Campus Award winners. Award winners will be asked to come to the stage and accept their award. We will not have presentation capabilities at this venue.
Please sign up for the ISCN mailing list to receive conference program updates as they become available.