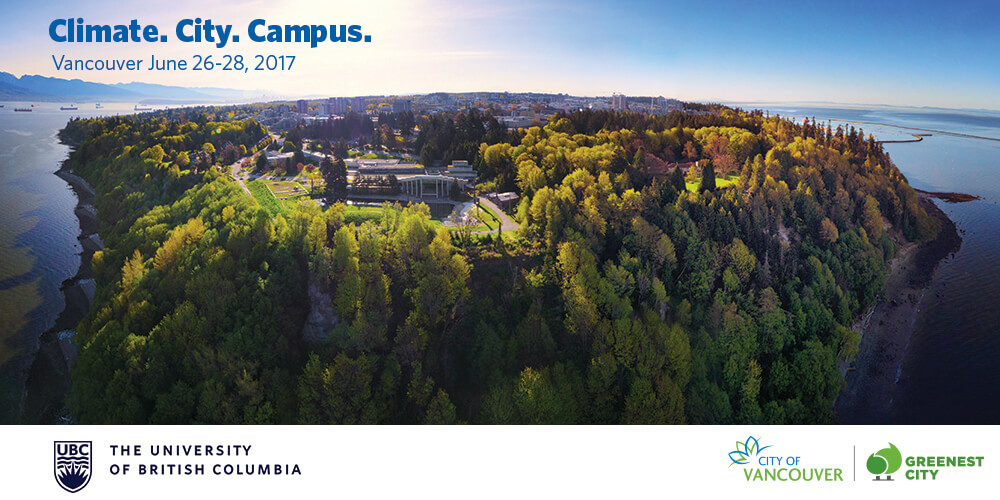 Plan Your Visit Accommodations Travel Tours
We are thrilled to be headed to Vancouver, British Columbia for the 11th ISCN conference. Mark your calendars for...
ISCN 2017
Climate.City.Campus.
The University of British Columbia
June 26-28, 2017
Vancouver, BC
The theme for the 2017 conference is "Climate. City. Campus." At the global level is climate change, the biggest sustainability issue of our time. At the regional level are cities where huge impacts – positive and negative – are made. At the local level are campuses and the location of our work as the ISCN. The conference will interweave each of these elements.
Co-hosted by UBC and the City of Vancouver, the conference will show the power of collaboration between campuses and cities. Attendees will gain insight into the UBC-CoV strategic relationship and see successful practical examples. We hope you can join us at UBC June 26-28, 2017!
Below is a short video with a sneak peek of UBC and the City of Vancouver. We look forward to seeing you next year!
Please sign up for the ISCN mailing list to receive updates on the ISCN 2017 conference.
About The University of British Columbia
The University of British Columbia is a global centre for research and teaching, consistently ranked among the top 20 public universities in the world. Since 1915, UBC's West Coast spirit has embraced innovation and challenged the status quo. The university attracts more than 60,000 students from across Canada and 140 countries to two major campuses.
UBC Sustainability
UBC's 20-year Sustainability Strategy guides the university's efforts to embed sustainability across teaching, learning and research, operations and infrastructure, and community, to not just reduce damage or harm, but to improve environmental and human wellbeing.
With over 25 years of sustainability commitment and recognized achievement, UBC continues to provide global leadership by using its campuses as societal test beds for sustainability, to explore ways to mitigate society's impact on climate and create a resilient and thriving community at an urban neighbourhood scale.
These efforts include: implementing innovative technologies that have enabled UBC to, in 2015/2016, achieve a significant 30 per cent reduction in greenhouse gas (GHG) emissions relative to 2007 levels; working to provide all students with access to sustainability education regardless of their program; and engaging with partners across campus and in the community to create happier, healthier, and more sustainable communities.
UBC has received two ISCN Case Study Awards, one for Integration and the other for Green Building Excellence. In 2015, UBC earned its second consecutive STARS Gold rating from the Association for Advancement of Sustainability in Higher Education.