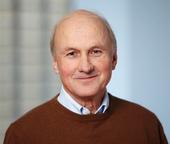 Prof. em. René Schwarzenbach is presently the Associate Vice President for Sustainability at ETH Zurich and head and delegate of the steering board of the Competence Centre of Environment and Sustainability (CCES) of ETH. He is also a member of the university council of the University of Konstanz in Germany, and since 2008, as permanent guest member of the scientific advisory board of the Centre for Environmental Research (UFZ) in Leipzig, Germany.
Until his retirement in January 2011, René P. Schwarzenbach was a full professor of Environmental Chemistry in the Department of Environmental Sciences (D-UWIS), presently the Department of Environmental Systems Science (D-USYS), at ETH Zurich. Between 2004 and 2010 he served as department head of D-UWIS. Between 2001 and 2010 he was also a scientific councilor and, since 2006, president of division IV of the Swiss National Science Foundation.
A full biography may be found here.